If most of us recall last December, the only thing that comes to mind is the Industrial Visit. Well, at least for those who came. For those who missed this fun trip, I can guarantee you won't miss it the next time. And for those who made it, here are some memorable events for you, to make you feel nostalgic.
Day 1: Train Journey
The train ride was one heck of a journey. We all gathered at the Bandra Terminus to board the train. After swapping seats with numerous strangers and earning annoyed looks from them, we finally got seated with our friends and played several games. Around 3:00 am, the train halted at the Kota Junction, Rajasthan. My friends and I hopped off the train to stretch our legs a bit and sip on hot coffee.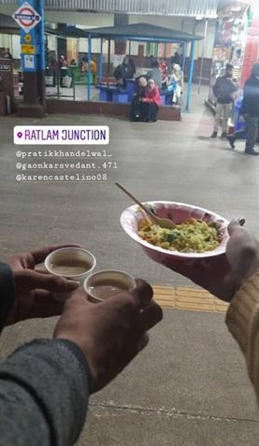 We awoke in the morning to find the train halted at the Hazrat Nizamuddin Railway Station, Delhi. We retrieved our luggage and exited the station to commence our trip.
Day 2: Delhi
Our first stop was the Red Fort. The massive monument stood there in all its glory, with the Indian flag hoisted at its centre. It was a magnificent sight, especially when the sky got darker. Later, we went on to India Gate, where a massive crowd had gathered. The Tricolour lights lit up the India Gate, and barely anyone could take their eyes off it. We went on to Chandni Chowk to hog street food. The streets of Chandni Chowk were bustling with food stalls. The absolute best was dessert, especially the jalebi dipped with rabri. It's literal heaven on earth.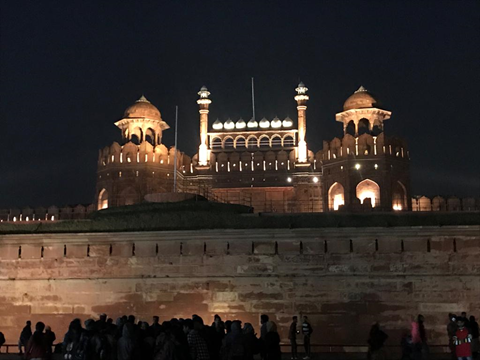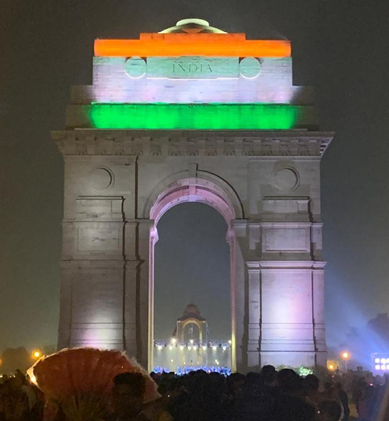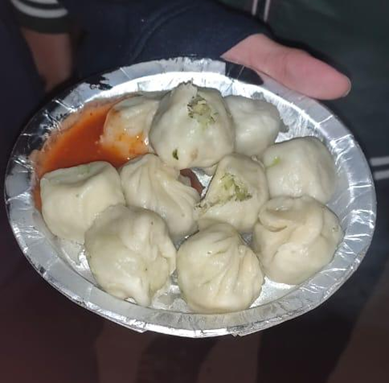 Stay with us as we move on to Amritsar!
Day 3: Amritsar
After an overnight journey of 8 hours, we made it to Amritsar. Following lunch, we made a trip to the Wagah border, dressed in our traditional attire. An enormous crowd had gathered there to watch the marching ceremony. We cheered for our Indian soldiers by chanting 'Vande Mataram' and 'Bharat Mata ki Jai'. It was a very patriotic and proud moment. We took a look at some of the souvenir stalls as well.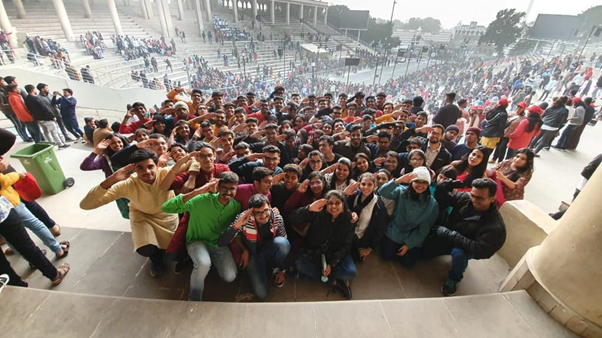 Late in the evening, we visited the Golden Temple. The temple was so beautiful that we could barely take our eyes off it. We took a few rounds of the temple barefoot. We explored the interiors of the temple thoroughly. After the tour, we proceeded to the Langar at the Golden Temple. The food there was simply delicious. The hospitality offered by the people there was heart-warming. We returned to our hotels with smiling faces and contented bellies.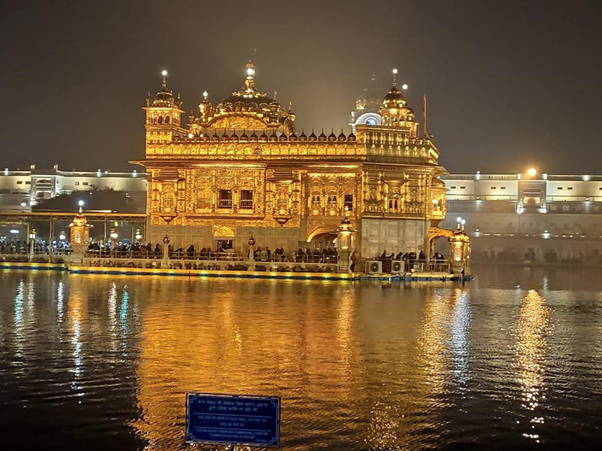 Coming right up is Dharamshala, and you certainly wouldn't want to miss this.
Day 4: Dharamshala
Post lunch, we left for Dharamshala. In the evening, we visited the market. Most of us shopped for souvenirs and gifts to take back home, while some of us were busy hogging different cuisines.
As it got darker, the sky got even more beautiful. We returned to our hotels around 11:00 p.m., but that's not where the fun ends. A few of us were hanging about on the terrace. It was getting quite chilly, so I returned to my room and locked the door behind me. I made the biggest mistake of taking a nap. And it's impossible to wake me once I get all warm and cosy underneath the blanket. Well, that's what happened. The entire Computer and IT Department (and I'm not exaggerating) were banging at the door, trying to wake me. They slammed the windows and the balcony door as well. A few of them played loud music on the speaker as well but to no avail. I didn't even stir. When I awoke later, my phone displayed at least a dozen missed calls. No sooner had I unlocked the door than everyone scolded me.
The next morning, after a good breakfast, we left for the Dharamshala Cricket Stadium.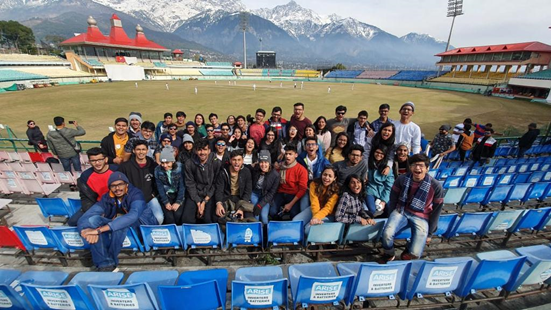 Next up is Manali!
Day 5 & 6: Manali:
The next morning, we proceeded to Solang Valley for some snow activities. We rented some snow gear as well. We had a lot of fun making snowballs and hurling them at each other. We tried skiing as well, though most of us ended up on our butts. Zip-lining was the best. Although we were wearing snow boots, the snow had somehow seeped into them. Our feet were almost frozen. Thankfully, there were quite a few campfires around. We gathered around the campfire, warming our hands and feet. We also met this adorable little dog and fed him some biscuits. We ended up playing with him for quite a while. He kept giving us paw shakes as well. It was quite a bonding moment for us all.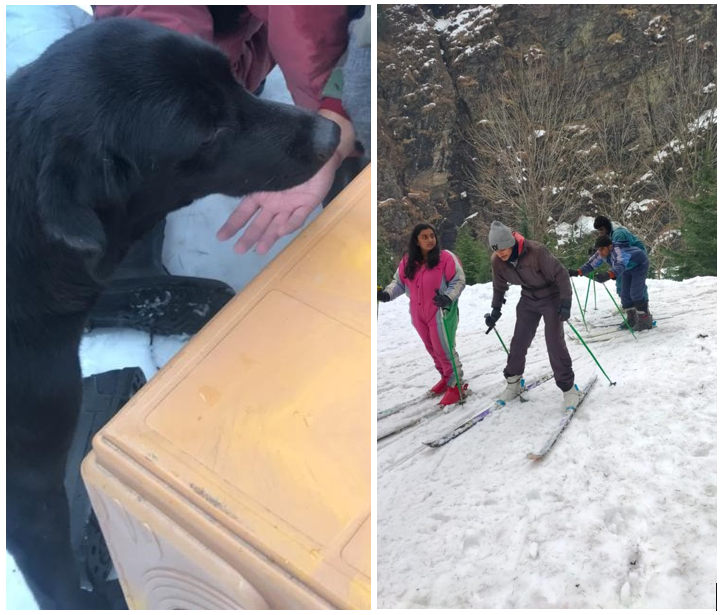 We returned to the hotel late in the evening to find a surprise: A DJ night. Later, we proceeded to have dinner. We stayed up most of the night playing  Monopoly.
Coming right up, our last stop: Kasol.
Day 7 & 8: Kasol:
The following morning, we proceeded to Kasol. We made a stop at the market to buy stuff like hand-made stoles, scarves, wallets, fanny packs, wristbands and keychains. As usual, we got hungry, so we tried Apple Strudel, chocolate croissant, Danish Chocolate croissant, butter croissant and cinnamon rolls at a German Bakery. We tried the samosas and jalebis at the stalls.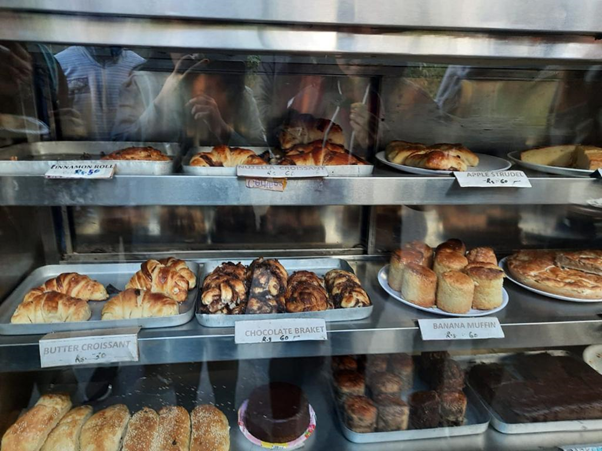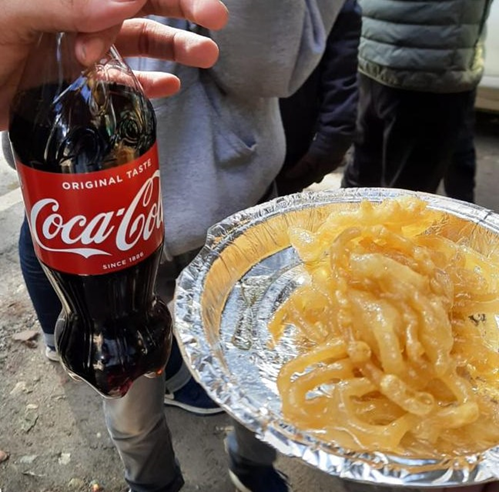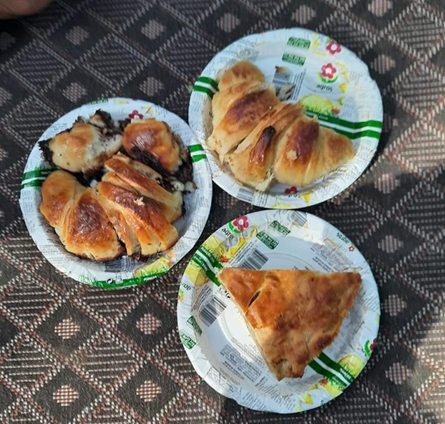 We made a short trip to Manikaran. My friends and I relaxed our feet in the hot springs. The Manikaran Sahib Gurudwara was nearby, so we made a stop there. We had to carry a sack of food grains on our shoulders to enter the Gurudwara.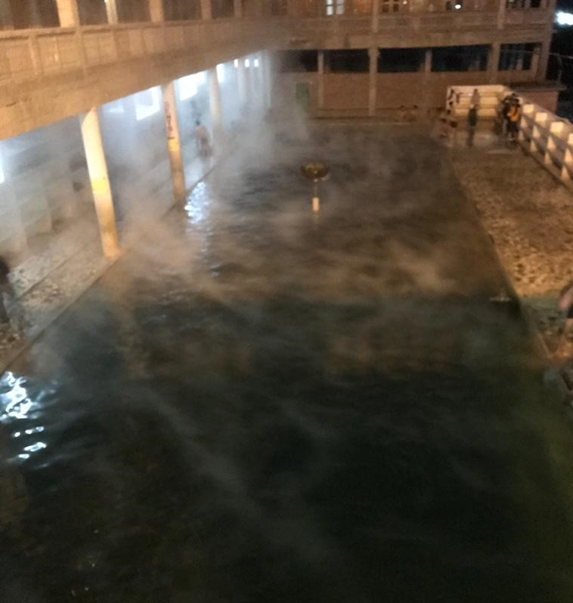 Right after dinner, we gathered around the bonfire, warming ourselves and making small talk.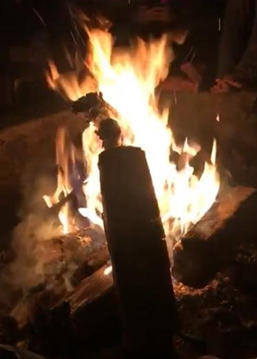 The following morning, a few of us trekked to the waterfall. We got done with lunch and got seated in our buses, with our luggage in the boot. It was an overnight trip, so we packed quite a lot of snacks and beverages.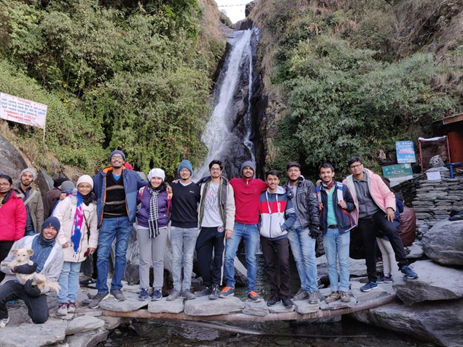 Day 9: Delhi and Train Journey:
On the way to the station, we stopped at another Dhaba for dinner. Here, another funny incident took place. My friend and I were standing outside the Dhaba, getting some fresh air, when a guy comes up to him and asks, "Bhai, lighter hai kya?". And the look on my friend's face was worth capturing. I laughed so hard and narrated this incident to everyone. Because, why not?
Day 10: Return to Mumbai:
Once again, the train halted at Kota Junction at 3:00 am, and we got off to have some coffee and snacks. After a while, we returned to our respective compartments to get a bit of shut-eye.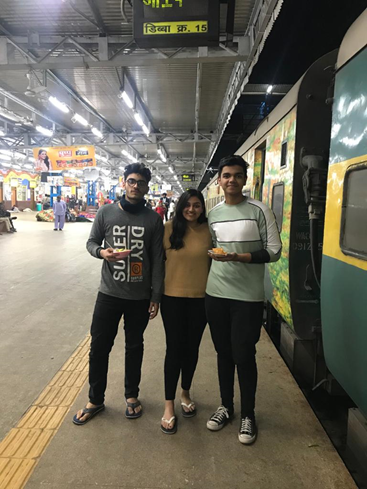 The following morning, the train reached the Bandra Terminus and we collected our luggage. It took forever for the train to halt, but when it did, we got off and ended up having a group hug. It got a little too emotional when we had to say our goodbyes. But I think I speak for everyone when I say we all had our fair share of fun. This trip will always have a special place in our memories.