We live in times where celebrities find it almost obligatory to use various social media platforms which enable them to keep up with the glamour of being in popular culture. While from the outside it may seem fun to have millions of followers, it comes with its own set of responsibilities. The biggest responsibility of them all is the obligation to be 'politically correct'. Taking the example of sportspersons, most of them have got an active social media presence. But rarely will you find any of the accounts bordering on anything unexpected that would raise eyebrows or set tongues wagging. That's largely because of the unwritten rule of being politically correct. Once a sportsperson violates the golden rule, it invariably leads to controversy. 
A prime and well-documented example being of cricket superstar Virat Kohli, one of the most followed sports persons and easily the most followed cricketer in the world on social media. Recently, in a Q&A session on Twitter, a fan viciously criticized the Indian captain by saying that he was an 'ordinary batsman'. Kohli retaliated by asking the fan to 'leave India'. Expectedly, all hell broke loose and Kohli was slammed for being 'narcissistic' and not taking criticism in his stride. Kohli backtracked and issued an unconditional apology. This emphasizes the point that a sportsperson is expected to be perfect on social media since he/she is a role model for youngsters and cannot express what is his/her true opinion. 
However, amidst all this there is a certain gent who uses social media the way it should be used, for fun and with the freedom to speak his mind. You may or may not know much about New Zealand cricketer Jimmy Neesham. He is neither the best cricketer in the world nor the most followed one on social media. There's just something about his twitter account that separates him from the rest. In a crowd of contemporary uber-star cricketers who routinely dish out cliched tweets and boring responses, @jimmyneesh stands out. The chirpy tweeter has an opinion on everything under the sun. From taking jibes at Donald Trump to tweeting about global warming, to shutting trolls, Neesham's twitter account is a refreshing change from the sanitized accounts of most other sportspersons.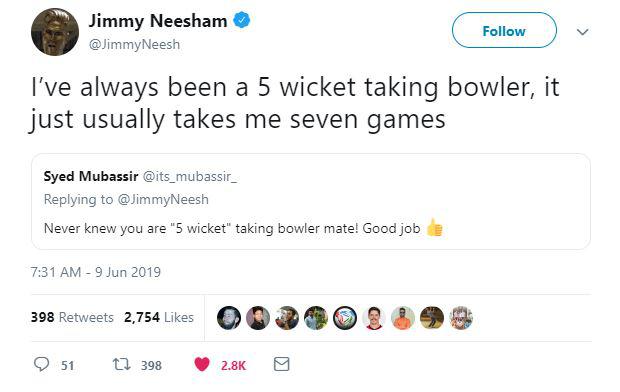 In an exhaustive podcast interview titled: "It's all an elaborate ruse", Neesham quipped: "I think a lot of sportspersons view Twitter as a platform similar to that of press conferences. From that point of view, if you are going to speak just like how you would in a press conference then what's the point of being on social media? The great thing about this medium is that you know everyone is human; they do the same things and think along similar lines. To that effect, it's a very liberating experience," before adding: "A lot of people also use social media as a tool for promotion. Again, what's the point of it? Most of these guys are trained to speak in a certain way and it ends up being a sterile environment where nothing much is really said."
Being a New Zealand cricketer, one of the more understated and under-the-radar teams in the world who nonchalantly almost always punch above their weight on the field, has perhaps liberated him from the pressures of getting trapped in needless controversy. His tweets are often satirical in a non-offensive way. He has had a stop-start sort of a career as a cricketer. After a blazing start to his career in 2014, he lost form, fitness and his place in the side. A career-threatening surgery at the start of 2018 nearly saw him quit the game. But he bounced back and ended up as one of the stars of the recently concluded World Cup. If his cricketing skills and career story hasn't yet endeared him to you, his twitter account surely will. After all, his career graph might be an up and down one, but his twitter curve is always on the way up.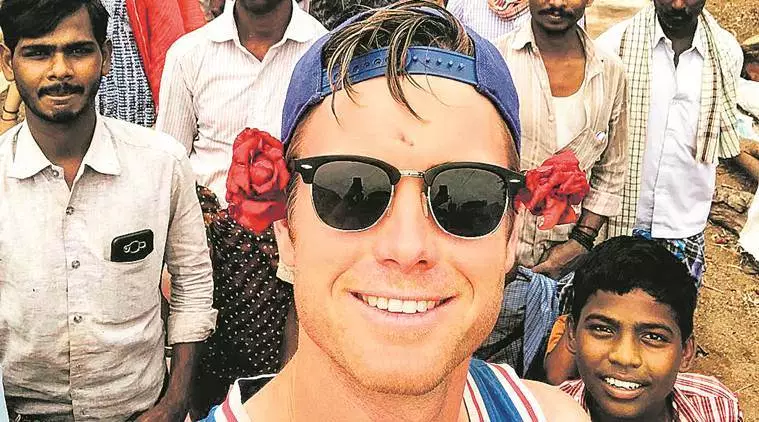 Some of his memorable tweets-
1.His analogy of the roads in Kanpur with the world's most powerful man.

"If Kanpur roads were a person, they'd be Donald Trump'

2. His response to a fan who asked him his opinion on an on-field controversy.

"HEY @JimmyNeesh your thoughts on yesterday's Mankading?"
"My thoughts are the following: It was only this morning for me. Aren't time zones cool."

3. Ohh, he has an emotional side too. His heartfelt tweet after New Zealand gut-wrenchingly missed out on the World Cup trophy, after losing on boundary count in a final where he was one of the protagonists.
"Kids, don't take up sport. Take up baking or something. Die at 60 really fat and happy."