Stand-Up
14th March 2021, there surely couldn't have been a day filled with more exuberance and anticipation for the SPITians. For the first time, a college in India could pull off a hybrid Stand-up event with not just one but two well-known comedians.As opposed to EDM nights and Concerts held every year as pronites, this time, the team of Oculus brilliantly managed to arrange a Stand-up event offline as well as online on Airmeet. Arrangements were made to accommodate nearly 100 people on campus whereas viewers in the online live stream crossed 350.
First up on stage, we had East India Comedy's prolific pun master, Azeem Banatwalla, creating colloquial transitions between everything from politics to The Lion King, keeping the crowd as intrigued as always.

The second comedian for the night was Kumar Varun, one of the funniest personalities in India. KV engaged the audience through his journey of transforming from an engineer to a stand-up comic, alongside constant crowd interaction with the students.
The event ended on a high note with a small song guessing from its hook-step with the help of very sporting volunteers which added to the fun and excitement of the night.
"We wanted students to have a break from the monotony of college lectures and enjoy a Sunday night with the comedians." – Darsh Mehta, Vice-Chairpersons of Oculus
War of Branches
The Oculus team presented with yet another memorable event, THE WAR OF BRANCHES, which was conducted on the 13th March 2021. The event was hosted by Sakshi Pandit and judged by a talented set of jury consisting of Angella Rebello and Roochie Barate. Even though the event was conducted virtually, the entire team of organizers was successful in keeping the audience engaged the whole time. There were 6 categories- fine art, photography, acting, singing, dance, and rap roasting.
The fine art and photography competition was held a week before the actual event. The vibrant drawings and creative photographs of the participants were posted on the Instagram handle, the war had begun from then onwards.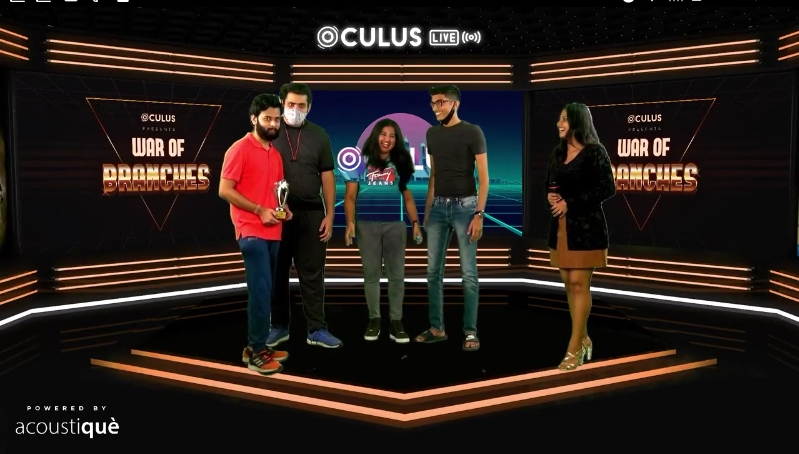 Then came the main event that people eagerly waited for. The event was live-streamed on YouTube.
The first category: Acting- Every branch came up with very unique and such real performances which left the audience absolutely fascinated.
The second category: Singing- The melodic and euphonious voices did light up the competition. EXTC and IT notched up the bar by incorporating various instruments like guitar and keyboard.
The third category: Dance- All the dance performances were extremely flawless, polished, and expressive.
The fourth category: Rap Roasting- This event completely heated up the stage. Apart from MCA, all the other branches chose to roast the opponents.
Then came the moment that everybody was waiting for, the results. IT won the war of branches and by this, the event came to an end leaving us with a very remarkable day.
"The vibe backstage was really awesome. All the members of the Oculus team were from different branches. We were hooting and cheering for our branch but at the same time making fun of the performance of other branches" – Rajat Naoghare, Chairperson of Oculus
A report by Nikita, Dhruvi, Trisha and Krushi