Once Mark Zuckerberg said "Ideas don't come out fully formed, they only become clear as you work on them. You just have to get started." E-Cell SPIT brought about the perfect opportunity for people who have ideas which have the potential to change the world. IdeaBank- a National level Ideation Challenge, the flagship event of E-Summit 2021, was the best competition for people who wanted to have some insights on what it's like to be an entrepreneur.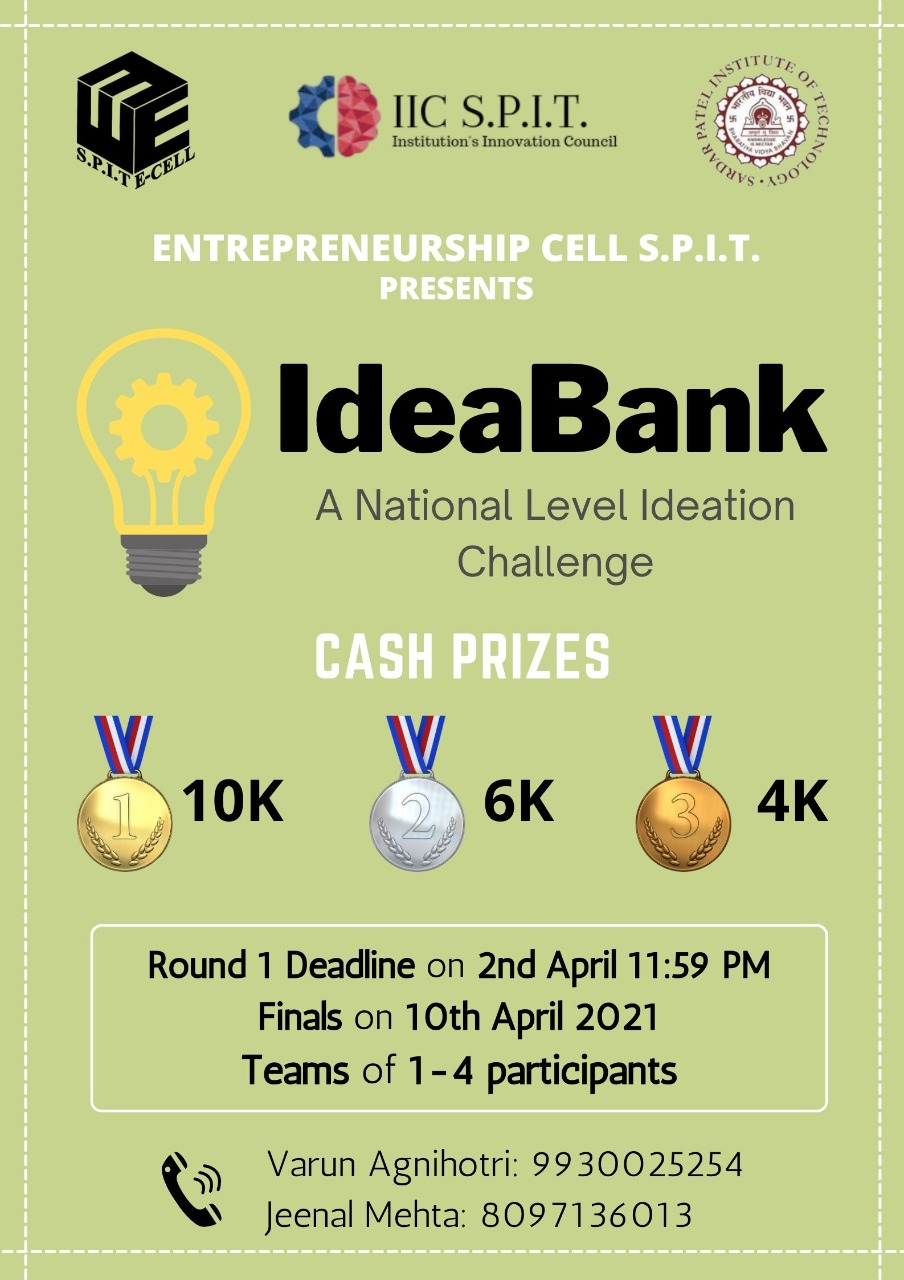 The registrations for the event had begun in the month of March, the interested candidates had the choice to participate solo or in a group with a maximum of four team members. The event was split into two rounds, for Round 1 the registered teams had to come up with an idea for a product or service which tackles any pre-existing problems, creates new opportunities or is related to healthcare, education, hospitality, entertainment, sustainability and agricultural industries. They had to make the presentation for the same and submit it by 2nd of April. There were as many as 200 registrations out of which 156 candidates cleared the first round but a Certificate of Participation would be issued to all the teams which had a valid presentation for Round 1.
Only 30 candidates made it to the finals. The final round was held on 10th of April on the Google meet platform wherein the finalists were asked to present their ideas within a time limit of 10 minutes followed with a question answer round with the judges. The judges for the IdeaBank, a national level ideation challenge-
Mr. Anuj Batra, Co-Founder Andromeida & Co-Founder EV StartUp
Mr. Chitradeep Aras, Head at Center for Entrepreneurship and Incubation at SPJIMR
Mr. Anuj Kumar, Associate Director with KPMG Lighthouse
Prof. Kaisar Katchi, Faculty Mentor, E-Cell S.P.I.T.
The judges with their years of experience and immense expertise provided their extremely helpful feedback and guidance to all the candidates which helped the participants gain better knowledge and enhance their entrepreneurship skills. The winner for the IdeaBank, a national level ideation challenge, was Team OxyHeal, a startup, followed by Team Enactus and Team InfintyX, a startup, in third place.
Organising a large scale national level Ideation Challenge had been a dream of E-Cell S.P.I.T for more than 5 years. I never thought we'd be able to pull it off, let alone see it be such a massive success. None of this would've been possible without the immense efforts of the team in not only executing the event but also getting some of India's most reputed professionals and mentors to come as judges and guide the finalists.

Varun Agnihotri, Organiser, Chairperson at E-cell S.P.I.T.
Report by Anushka Pandey